Declaration for Clean Energy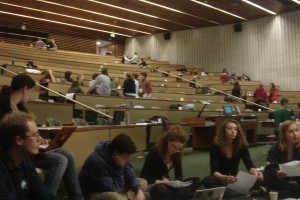 On November 19-21 2010, approximately 170 students from across New England gathered at Wesleyan University in Connecticut to strategize ways to build the climate movement and to prepare a declaration to deliver to policymakers across New England and the US, including representatives of the US climate team at the Conference of the Parties in Cancun, Mexico.  The Student Conference of the Parties was organized by SJSF, and held in partnership with the Wesleyan Pricing Carbon Conference, a national assembly of politicians, industry insiders,  scientists, and organizers, to discuss the potential of carbon pricing as a bold and effective policy measure to address global climate change.
The Declaration:
Over the weekend of the SCOP conference, students worked together to draft the official Students for a Just and Stable Future Declaration for Clean Energy.  The five page declaration explains the need for a fossil free future, demands action from our leaders, and outlines our action plan for achieving our goals. View the declaration

Watch the press conference on our declaration at the UN Conference of the Parties in Cancun!
Current signatories:
Name                State        School/Organization Affiliation
Adams, Mariel        MA        University of Massachusetts Amherst

Agbolon, Mahunan        CT        Norwalk Community College

Aidun, Hilary        VT        Middlebury College

Akiha, Samantha        MA        Boston University

Aleshinloye, Kasope    MA        Amherst College

Altemose, Craig        MA        Harvard University Alumni

Altomare, Jean        ME        Unity College

Anders, Brett        RI        Brown University

Anni, Priya            MA

Ardle. Chelsea        ME        Unity College

Arteaga, Alma        VT        University of Vermont

Arteaga, Stefan

Austin, Sarah        ME        Unity College

Axon, Lovis        MA        University of Massachusetts Amherst

Bantegui, Tracy        ME        Husson University

Barrera, Vanessa        MA        Wellesley College

Barthelmes, Elizabeth    MA        Boston College

Bello, April            MA        Wellesley College

Bering, Janet        VT        Middlebury College

Blaine, Elli            MA        Wellesley College

Blazek, Cedar        MA        Williams College

Bowers, Emily        NH        University of New Hampshire

Boucher, Daniel        NH        Hampshire College

Boyer, Geneva        MA        Brandeis University

Buckley, Sarabeth         MA        Tufts University

Buckner, Heather        MA        Tufts University Alumni

Castonguay, Desiree    ME         Husson University

Castro, Jonathan        CT         Norwalk Community College

Cecelski, Vera        MA         Williams College

Chen, David         MA         Amherst College

Cheslin, Carra         CT         Connecticut College

Chew, Amanda         RI         Brown University

Codognolla, Lucas    CT         Norwalk Community College

Conlin, Molly        CT        Connecticut College

Conrad, Emily        CT        Connecticut College

Covello, Yolanda        CT        Norwalk Community College

Cravero, Anne        ME        Bates College

Crocker, Katrina        MA        Worchester Polytechnic Institute

Cullinane, Charlene    NH        University of New Hampshire

Dahlberg, Nick        MA        Boston University Alumni

Daniell, Jonah        MA Amherst Regional High School

Devanney, Nick        NH         University of New Hampshire

Devoney, Mel         MA        Amherst Regional High School

Dismore, Siera        RI        Brown University

DiTulio, Ruth        NH        University of New Hampshire

Dreibelbis, Michael

Fahey, Meghan        ME        Bates College

Farley, Thandiwe        MA        Boston University

Faulkner, Amanda        MA        Wellesley College

Feltham, Eric        MA        University of Massachusetts Amherst

Fetzer-Rogers, Margaret    MA        Simon's Rock College

Finkle, Sara        MA        Williams College

Fitzstevens, Maia        MA        Wellesley College

Friedman, Robert        ME        Bates College

Golden, Dana        MA        Williams College

Goldspiel, Harrison    MA        Brandeis University

Gonzalez, Catalina    MA        Wellesley College

Goodwin, Morgan        MA        Williams College Alumni

Green, Mike        MA        Northeastern University

Hansen, Audrey        NH        University of New Hampshire

Hayes, Nicholas        MA        Harvard University Alumni

Hernandez    , Raustin    MA        Brandeis University

Hernandez    , Mika        MA        Hampshire College

Hillen, Jibben        MA        Amherst Regional High School

Ho, Jacqueline        RI        Brown University

Horan, Rebecca        CT        Connecticut College

Jeffries, Thomas        MA        Amherst Regional High School

Kauffman-Rogoff, Zakkai     MA        Worchester Polytechnic Institute

Kaufman, Kara        RI        Brown University

Kennedy, Amy        ME        Unity College

Kennelly, Mairead        MA        Boston College

Khan, Risalat        MA        Amherst College

Kriyakos, Christina    MA        College of the Holy Cross

Lam, Tiffany        MA        Wellesley College

Lanza, Marie        MA        Boston University

Latham, Ben        ME        Bates College

Lawrence, Spencer    RI        Brown University

Lawson, Sawyer        ME        Bates College

Lello-Smith, Anna        MA        Tufts University

Li, Jenny            RI        Brown University

Lindsay, Andrea        MA        Williams College

Linenfelser, Erika        MA        Hampshire College

Lupkin, Lea        MA

Lum, Allen            MA        Williams College

Luther, Stevie        MA        Williams College

MacDonald, Katie        MA        University of Massachusetts Amherst

MacGregor, Avery        MA        Hampshire College

Macko, Sasha        MA        Williams College

MacMaster, Elizabeth    ME        Husson University

Mahler, Coleman        MA        Brandeis University

Maki, Sydney        MA        Lesley University

Manter, Alex        MA        Williams College

Marceau, Guillaume    MA        Worchester Polytechnic Institute

Mariscal, Javier        MA        Williams College

Marks, Jennifer        VT        Middlebury College

Maschinot, Nick        MA        Williams College

Mayo-Smith,         MA        Leslye University

McDermott, Chris        MA        Assumption

McGowan, Eugene    MA        Boston College

McMurray, Roslyn        MA        Hampshire College

Meacham, Dylan        MA        Williams College

Mendoza, Christian    CT        Norwalk Community College

Metersky, Joshua        CT        Tufts University

Mu, Yan            CT        Norwalk Community College

Muellers, Sarah        CT        Connecticut College

Negami, Hanna        MA        Brandeis University

Nesbitt, Nathan        MA        Worchester Polytechnic Institute

Osgood, Michelle        ME        Husson University

Palmer Paton, Linnea    CT        Worchester Polytechnic Institute

Pan, Junhua        MA        Amherst College

Parkington, James    MA        Boston College

Parsons, Bliss        MA        Mt. Holyoke College

Patterson, Jessica    NH        University of New Hampshire

Pedtke, Julie        MA        Amherst Regional High School

Penticoff, Leslye        MA        Wellesley College

Phillips, Ian        MA        Connecticut College

Pickoff, Margaret        ME        Bates College

Pilcher, Natty        MA        Hampshire College

Platt, Hilary        VT        Middlebury College

Powell, Devyn        MA        Tufts University

Pryciak, Jessalyn        MA        Amherst Regional High School

Pskowski, Martha        MA        Hampshire College

Robinson, Eric        MA        Williams College

Ronn, David        MA        Brandeis University

Rose, Nathan        NH        University of New Hampshire

Ross, Halle        MA        Hampshire College

Rubin, Sam        ME        College of the Atlantic

Russell, Heron        MA        Wellesley College

Salwen, Lucy        MA       Amherst Regional High School

Savitch-Lew, Abigail    RI        Brown University

Segal, Katie        MA        Tufts University

Sharpe, Malik        MA        Williams College

Siegel, Rebecca        MA        Hampshire College

Sherman, Chandler    MA        Williams College

Simonds, Jonathan    MA        Amherst Regional High School

Simmons, Amelia        MA        Williams College

Smith, Tucker        NH        University of New Hampshire

Smookler, Tali        MA        Brandeis University

Soule, Rachel        MA        Brandeis University

Spurgin, Sarah Grace    MA        Amherst Regional High School

Steckel, Jenna        RI        Brown University

Taniuchi, Nicolle        MA        Hampshire College

Tansey, Emily        MA        Mt. Holyoke College

Togami, Chie        MA        Williams College

Torres, Jasmine        CT        Norwalk Community College

Trolio, Ben            NH        University of New Hampshire

Udvardi, Mayrah        MA        Wellesley College

Van Amburgh, Catherine     ME        Unity College

Wang, Guangxin        MA        Wellesley College

Watkins, Rhys        MA        Williams College

Wilke, Jackson        MA        Hampshire College

Williams, Dorian        MA        Brandeis University

Wilmerding, Lila        ME        Bates College

Yee, Chan            MA        Williams College

Zimmermann, Janna    MA        Wellesley College

Gerry, Jeannette     MA      Worchester Polytechnic Institute

Dervin-Ackerman, Jessica      MA      Northeastern University

Fischer, Daniel   CT    Wesleyan University

Zimmerman, Kaia   NY     Sarah Lawrence College

Hanlon, Sarah        MA      University of Massachusetts  Amherst

Simon, Dezso      MA     Clark University

Kuusipalo, Rina     MA      Harvard University

Nathan Murphy     MA     Sustainable South Shore

Caulton, Benjamin         MA        Amherst Regional HS/SJSF

Klema, Mackenzie         MA        Wellesley College

Shamel, Susan                 MA

Russ, Ariel             MA        Mount Holyoke College

Feldish, Jessica         MA        Northeastern University

Caplan, Gregory        PA        Carnegie Mellon University

Macheras, Alex        MA        Boston College

Cabral, Mark B.         MA        Westfield State University

Bort, Sharon         MA        Clark University

Sharrow, Sally        MA        Tufts University

Roben, Eva        MA        Harvard University

Zhao, Serena        MA        Harvard University

Thalheimer, Sonja        MA        Williams College

Singh, Swarnima        MA        Mount Holyoke College

Volfson, Alexander    MA        Worchester Polytechnic Institute

Tirrell-Wysocki, Hannah    MA        Clark University

Adkins, Justin         MA        Williams College

McDonald, Lauren        MA        Williams College

St.Mary, Amanda         MA        Northeastern University

Pelter, Carly        MA        Mount Holyoke College

Arlen Weiner        MA        Tufts University

Gabrenya, Matt        MA        Brandeis University

Glidden, Lily        MA        Tufts University

Santa Maria, Anthony    MA         Tufts University

Seagren, Josie-Dee    MA        Wellesley College

Marcum, Marla        MA        Boston University School of Theology

Filter, Travis J        MA        Lesley College

Kyriakos, Christina     MA        College of the Holy Cross

Tran, Lisa            MA        Tufts University

Salvage, Ashlyn         MA        Amherst Regional High School

Randolph, Eleanor     MA        Williams College

Saltman, Hannah        MA        Brandeis University

Smith, Gemma         CT        Wesleyan University

Wang, Diana         MA        Brandeis University

Gambill, Isabella        MA        Wellesley College

Stuart, Lillian         MA        Wellesley College

Billman, James         VT        University of Vermont

Rosenthal, Jonathan     MA        Harvard University

Renoir, Megan         MA        Boston University

Weber, Evan         CT        Wesleyan University

Stodola, Claire         NH        University of New Hampshire

Judge, Erin         MA        Westfield State College

Wohns, Sam         MA        Harvard University

Lichtash, Matthew        CT        Wesleyan University

Bello Ugalde, Gabriela     MA        Lesley University

Finegold, Yelena         MA        Clark University

Chin, Katie             MA        Boston College

Buckner, Ethan    NY          Vasser College

Miller, Sophia        MA        Mount Holyoke College

Gonçalves de Barros, PauloMA        Worchester Polytechnic Institute

Bliss, Julie            MA        Worchester Polytechnic Institute

Warfel, David        MA        Worchester Polytechnic Institute

Payan, Juan C        MA        Worcester Polytechnic Institute

Chaudhary, Mihir        MA        Harvard University

Demircioglu. Gizem    MA        Worcester Polytechnic Institute

Kelley, Jamaica         MA        Simmons School of Social Work

Dilara, Pembe                Istanbul University

Beatty, John         MA        Harvard University

Darcy, Julia        MA        Worcester Polytechnic Institute

Thompson, Kerry        MA        Worcester area